It's clear that this blog has become nothing more than a place to list my annual top five albums; but here's to consistency. A couple of notes before we get into the list. One, Coldplay — you should be ashamed of yourselves. Rumor has it that this album (A Head Full of Dreams), your 7th studio album, is your last. I'm not saddened. You've not produced anything worth listening to since Viva la Vida or Death and All His Friends (2008). Two, while I enjoyed Wilder Mind, and truly admire Mumford & Sons for departing from the norm (banjos, acoustic guitars, and a standing bass), this album was lyrically weak. Does every song on a 12 song album have to be about the complexity of love & relationship? Aren't there other topics you could write and sing about? Father John Misty makes me smile, and Adele has a voice like no other human on the planet.
Honorable Mentions
Mumford & Sons - Wilder Mind
Of Monsters and Men - Beneath the Skin
Wilco - Star Wars
CHVRCHES - Every Open Eye
Father John Misty - I Love You, Honeybear
Car Seat Headrest - Teens of Style
Adele - 25
The Top Five
This is like a subdued dance club album - as in, you can listen to it and not want to stick hot pokers in your ears. Think airy & effervescent, with a touch of cool.
This is probably the album that will catch some pushback. Outside the overplayed Riptide this is a really good album. Musically clean and lyrically simple. Favorite track - Georgia
3. Death Cab for Cutie - Kintsugi
I have a soft spot for Death Cab. I love them. I would put Benjamin Gibbard's lyrics up against any other singer/songwriter in the world. The writing is smart. Each song tells a story. A good story. The music won't blow you away…but I get lost in the lyrics every time I listen to this album. Favorite track - Ingenue
This is the album that I envision Mike Milligan (Fargo - Season 2) popping into the 8 track as he drives through the frozen north looking for Dodd Gerhardt. The beginning of the album — the start of the song Sound & Color — is beautiful. Strong. Soulful. Get up and dance good. I can't stop listening to this album. Favorite track - This Feeling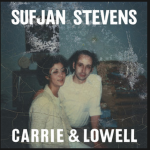 It's hard to put into words how I feel about this album. It's move-you-to-tears good. It's named after Sufjan's mother, Carrie, who died in 2012, and step-father Lowell. It sounds different than his earlier albums. This album is hard. Beautiful. Entrancing. Emotional. Real. Raw. Hopeful. I like what Steve McCoy said about this album: "A warm hug and consoling whisper through the reverberating ache". Don't play this at a party. While everyone will know they listened to an incredible record, they may go home depressed. It's hard to pick just a single favorite track on this album. All of it is so good. But if I'm forced it's All of Me Wants All of You.